Environ is a non-governmental and non-profit organization, founded in 2007. Our goal is to take responsibility for producers and importers of electrical and electronic equipment, by collecting and recycling these products at the end of their life cycle
0
tons of WEEE
collected
and recycled
0
national points
for collection
0
mobile apps
for recycling
Environ holds the operating license no. 3 / 30.01.2020 valid until 30.01.2023 for the management of the equipment categories no. 1, 2, 4, 5 and 6 according to Annex no. 4 to GEO no. / 2015.
Based on a transfer of responsibility contract, Environ takes over the legal obligations of the producers of electrical and electronic equipment in order to meet the minimum annual rates of collection and recycling of electrical and electronic equipment waste (WEEE).
Throughout the contract, Environ provides support and advice on environmental obligations, reports to the National  Environmental Protection Agency  and the Administration of the Environmental Fund.
As a collective organization licensed by the Ministry of Environment and Forests, Environ ensures through its partners, authorized economic operators, the stability and traceability of WEEE management processes: collection, transport, storage, treatment, recycling and non-polluting disposal, with access to new technologies that allows the collection of waste to be at European quality standards in the field of recycling.
Certifications
Environ holds the certifications ISO 9001: 2008 on the quality management system, ISO 14001: 2005 on the environmental management system and ISO 27001: 2005 on information security.

Since 2014, Environ has been a member of the WEEE Forum, a pan-European organization that brings together 40 responsability transfer systems, providing an opportunity to be continuously updated of policies at European level, as well as examples of good practice from other Member States.
Key factors leading to Environ succes
Transparent collaboration with producers, operators and with the environmental authorities
An efficient on-demand waste collection system
An accessible and easy to use collection points network
High expertise in awareness activities and CSR programs
Recycle together with Environ!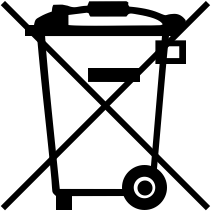 This symbol indicates that the WEEE must be collected separately and it is strictly forbidden to be thrown away